March 16, 2007
Where You'll Find Me
My friend Paul Frankenstein has asked me to guest-blog for him. So hie thee hence!
If my lazy bum is up to it, I will post here as well.
January 28, 2007
A little too ironic
Tuesday the 16th was only slightly out of the ordinary for me. I had a long overdue doctor's appointment, the kind that involves wearing a paper gown and sticking one's heels into stirrups. With that obligatory unpleasantness out of the way, I drove back home and took the train into work.
That weekend I received a message from Stylefeeder that I had won their daily random drawing for Tuesday, the 16th. Stylefeed allows you to build your own wishlist as you browse the web and come across items that strike your fancy. I noticed Paul's Stylefeed on his blog, and decided to try it out. So thanks to Stylefeeder and ultimately to Paul, I am now the happy owner of a brass handcuff lariat necklace, designed by Erica Weiner.
Getting home from work Friday night, there's a letter from the city police department, telling me that I was ticketed for turning on a red light. There are pictures of the car, turning while the light has been red for .77 seconds, completing the turn in under two seconds. I check the date and time in my calendar, and realize it was Tuesday the 16th, when I'd gone in for my appointment. In my rush to get home to park the car to get on the train to go to work, I turned just after the left turn arrow had disappeared and now I have my first ticket. Arrgh.
So in one day I have been ticketed and won a necklace featuring tiny handcuffs.
October 18, 2005
LibraryThing - An online tool, still in beta, that allows you to catalog your books. Media (cds, dvds) seem available too, but not quite as numerous. This may involve my editing my catalog entries, but it's worth exploring. I'm thinking about ponying up the $10 for a lifetime membership (which also allows you to catalog more than 200 items).
Time magazine picks top 100 novels since 1923 to present
a few thousand science fiction covers
article on weblog usability
August 30, 2005
Blog Day 2005
I've been tagged by Paul Frankenstein. More details here.
August 02, 2005
Mmm, Butterscotch.

Available on a t-shirt, at least until some lawyers get persnickety.
I used to think Luke Wilson was the cute one, but Owen's sleepy-eyed charm won me over the day he was dubbed "The Butterscotch Stallion." As I explained to a guy friend who didn't get his appeal:
There's a laid-back sweetness to him. He's kinda quirky, kinda oddball, and he's so at ease with himself that it doesn't matter that he's not an obvious pretty boy. He'd tell you what he was thinking and feeling and admit that even if this isn't forever, he's so into you, and wouldn't it be nice to make hay while the sun shines?

Yeah.
July 28, 2005
What Everyone Should Know About Blog Depression
A Public Service Pamphlet [The Nonist via Gawker]
Someone wrote up something hilarious about the phases or stages of blogging but I can't find the link. This will have to do. Enjoy.
July 25, 2005
here
I could vent my spleen (terrorists, Karl Rove, John Roberts - whose wife does pro bono work for Feminists for Life, the energy bill which would double ethanol production even though it takes more fuel to make ethanol than the amount of ethanol actually produced, that I can't dial up at home because my computer won't connect anymore).
I could tell you more about my trip to San Francisco and Sonoma and my subsequent visit with family in Myrtle Beach.
I could post the results of the latest web quizzes (my power color is red-orange, I am a Type B+ personality, I was a Portugese sailor in a past life).
I could tell you about the latest cool stuff I want but don't need, like a wristband that says "scalawag" or "candyass."
It's not like I don't have things I could post, I'm just in a sort of
blogging malaise, like what's the point. I'm not chick lit, I'm not a political activist, I'm not much of a librarian blogger or a devoted Austen/shopping/crafting/foodie/reading/music/film blogger. I am a commonplace commonplace book (redundancy intended), a mote of dust in the blogosphere.
I feel cranky, and even to my own mind I'm being annoying - willfully blindered and small-minded.
Because I could also tell you of talking Star Wars with my older nephew. That my younger nephew, who was nearly ready to walk when I last saw him, has started walking. That I've had great laughs and a great mojito care of Weird Babe. That I stuffed myself silly over food and a full-out viewing of all five hours of Pride & Prejudice with my friends Tessa and Dave. That we and the LTR saw a really sweet, wonderful improv play written by my friend Clunky Robot. That the gray cat, whom we've named Ulysses, is coming in for overnight visits and likes to make biscuits on me in the middle of night, purring at full throttle. That between therapy and Paxil (fuck off, Tom Cruise) my life is a whole lot better. I still have work to do, but I accept that there will always be work to do - and that it doesn't have to be unpleasant. My world isn't bleak and I don't let assholes have power over me anymore.
So yeah, I haven't felt like I've had anything worth saying. One of those phases, but it will pass.
June 23, 2005
Whatever will be.
Books Stir Discussion on Lost Friendship [AP] "Friendships blow up and fade out all the time. Sometimes it's a fight. And life changes - a move, a marriage, a baby - can get in the way. Then there are those times when you just look at your friend and realize you don't really have much in common anymore...."
The Friend Who Got Away The book's official site also has a blog which accepts submissions of links and personal stories on this topic.
I've read some eloquent takes on this subject. It's been on my mind of late, try as I may to stop dwelling on the loss of a girlfriend. Things are different than this time last year. I still feel sad, but there's little point in hanging on. There are things I should have, could have done, but I didn't. At the same time I don't shoulder all the blame for what went wrong. Hopefully I've learned enough not to make the same mistakes. Now I am more resolved to be the kind of person people like to be around, and to surround myself with such people as well.
The other night I was on the phone with one of my oldest girlfriends, talking about how the end of a friendship can hurt as much as a breakup. There was a time when we had our own falling out. She had written me a Dear Jane letter. Instead of letting it go, I called her up and we settled our differences. (Many tears were shed.) We are different friends than we used to be, but there has to be room for each person to grow. We're no longer the same people we once were. Thankfully we are still in each other's lives and we can talk to each other about things both important and frivolous.
June 14, 2005
Legal Guide for Bloggers
The Electronic Frontier Foundation (EFF) provides a legal guide for bloggers that's worth reading.
June 04, 2005
randomness
Those who are interested can find a backup of Mike's page at http://randomness.ladycrumpet.com/; the main blog is here.
There are some things that I still need to fix, but it's basically up now. The original location will be restored as soon as we are able.
June 03, 2005
Does anyone have...?
A file called MT-2.63-full-lib.tar.gz or even the regular zipped version? I'd like to create an MT 2.63 installation and then upgrade it accordingly. Unfortunately I don't have my original installation file anymore. I've put a request at MT's support forum and also on my host, just in case somebody there can help.
If all this is just sounds like a bunch of techno-gibberish, then kindly disregard.
FYI
Mike's site is down temporarily. I've been working on setting up a backup location, which I hope to have up by tonight. If you'd like to be notified when it's ready, please leave a comment with your email address or send me an email directly.
May 27, 2005
In need of inspiration
Be A More Productive Blogger [via zeebahtronic]
Have been laying low but life stuff has been percolating. More in a bit.
May 11, 2005
Shifting the Conversation
I've gotten the ok from Mike's mom, so I plan to close the comments on Mike's last post. It's been something I've thought might be necessary for some time, but I didn't want to act presumptively. If people would like to continue to share thoughts and comments, we can do so at the Remembered page. I will gladly set up author logins for those who are interested in contributing directly. I don't know if there is interest for a whole new space, but that's a discussion that we can have there.
The general impression I'm getting from people that I've spoken to or heard from in comments, email and IM is that they would like Mike's site to stay online. I'm glad to hear it, because that's my wish as well.
May 10, 2005
Thinking
As some of you may know, I'm involved in keeping up randomness personified. Generally this has meant going in and removing comment spam from time to time, but I'm also looking into archiving the site. I know the files have been backed up, so I'm not worried. I'm backing up the entries regularly now so as to capture recent comments to the last post.
Generally this upkeep has been received well. But the response hasn't been universal. I'm writing here, to sort out my thoughts, because I don't want this debate to take over the comments section on Mike's blog. I'm trying to accept this difference of opinion without being too upset about it. So I will have to respectfully disagree. As long as it's ok with Mike's parents, I will continue to help take care of the site.
I see keeping the blog around like keeping a picture on your shelf. You don't always pull the picture down to look at it, but it's there because it's important enough to you to keep around. To be honest, I haven't been able to read old entries but I know that I will want to eventually. In the meantime, if others want to take comfort remembering Mike by reading his words, I don't see why that's wrong. He put the blog out there on the internet for people to read, to share some of his thoughts with us. Why should all that vanish, simply because he's no longer with us? It's not the only way to remember him, but it seems more meaningful to read his words than to do something like plant a tree in his name. That's my opinion, anyway.
I don't generally comment on the site anymore, but I like knowing that the site is there, that I can visit my friend now and then.
May 05, 2005
Lovely to Meet You
Scott and I ran into Bump and bobafred and we grabbed the first table of the evening, keeping our eyes peeled for other bloggers, like Titus. Mingaling and her S.O. arrived, and not long after, we met Slingerdoo, who had set up with some folks in another part of the restaurant. After clearing it with the waitress, we pushed some tables together to accommodate the expanded group, including Pop Philosophy, hollismb, and the gals of Threadbared, one-half of whom also blogs as Weird Babe. Was most pleasantly surprised to see another familiar face - the Little Toy Robot.
At this point we learned that the room where a private party had been held was being cleared, and would we like to move into there? Private room? Why yes, thank you. And so on to our third seating of the evening. The banquet setup did inhibit mingling, however, as we tucked into our food and quaffed our drinks. I didn't get to meet everyone, but it was great to finally meet Mingaling and Weird Babe after we'd been reading each other for quite some time. Also made the acquaintance of Jessica Harbour, who had a lovely jangly, spangly bracelet.
Some of us also happen to be flickr people. I'll have to look them up, but it's off to Bedfordshire now.
APWBWGTTD
Atlanta People With Blogs Who Get Together To Drink:
Manuel's (pronounced MAN-u-els), 7:30 pm, on N. Highland.
One of our regular waitresses at Flying Biscuit is going to be mad at me that I'm skipping out again on Captured By Robots at The Earl tonight. We'd told her we wanted to check them out, but didn't go the last time they came to town. It seems the first Thursday of the month is a pretty popular time for people to get together, meaning that I am regularly forced to choose whether I want to hang out with bloggers, librarians, or this time, robots.
April 12, 2005
This is to say...I have nothing to say
When having no information is too much information - Why must bloggers keep us apprised on days when they have nothing to say? [Alan Greenblatt, San Francisco Chronicle 4/10/05] Going by the title, I thought this article would take a harder stance on bloggers for posting about having nothing to say, being busy elsewhere, etc. but the author discusses the full spectrum, noting that such posts are the modern equivalent of letters that begin with "I'm sorry I haven't written in so long, but...."
And what's my excuse? I've found another web toy to share. I have pictures to post. Just haven't done it yet. Currently in damage control mode. I'm not sure if I'm putting out fires so much as keeping them from becoming conflagrations as I try to develop better life management skills. Sorry to be obscure, just trying to be mindful of unloading TMI (that would be Too Much Information, not Three Mile Island, which is one of Taco Mac's offerings for hot wings, as well as that nuclear incident from a few decades ago).
March 29, 2005
American Heathcliff, Brooding and Cuddly
David Duchovny has a blog, I guess in support of his movie, House of D. There are even audio posts, so you can have Mulder's voice cooing into your ear about how he'll be the guy walking the streets of Seattle carrying a Starbucks cup.
Interesting
Between Lawyers - "a new blog on the issues raised when technology, culture and the law intersect." Sounds right up my alley.
March 25, 2005
Another Blogger, Another Book Deal
Cindy Adams, the gossip columnist, notes the following as today's example illustrating her tagline "Only in New York, kids, only in New York."
AT Princeton Brooklyn's Jeremy Blackman wanted to write musicals for Jay Kerr, now a voice coach. Then, at Harvard Law, he began anonymouslawyer.blogspot.com wherein he managed to identify the tattered soul of the legal profession. Its contents intrigued the publisher Holt. They e-mailed to see if he would turn it into a novel. Jeremy nailed a William Morris agent and "Anonymous Lawyer," a suspenseful study of life inside a law firm, is on its way to our bookshelves.
March 16, 2005
Coming Together Like Voltron
So after several missed appearances, we finally made it to a gathering of bloggers and beer, this time at the Prince of Wales. Although there weren't any nametags or familiar faces, I somehow managed to zero in on the right group of people: messages from the ether, bobafred, Titus Barik, hollismb, and bump. Was most sorry to miss the acquaintance of mingaling, whose dog was unwell. Hope he's better.
It so happened that it was trivia night, hosted by a guy who looked like a refugee from a hair metal band. Our team name: Epileptic Dog, in homage to our missing organizer. We drew upon our combined knowledge of random stuff. My contribution was useless pop culture. I probably shouldn't be so proud of correctly identifying Michael Sembello as the singer of "Maniac" (from the Flashdance soundtrack). But that was six points right there, one of the small successes on the way to our first-place smackdown.
Two surprising random revelations:
Ran into an old college friend who plays trivia there every week once he's done taping his public access film critic show. And lo, he has a livejournal.
Bump lives just down the street from us.
Naturally, I had to get online and put this all down right now....
February 21, 2005
De-blogging
Time to get a life -- pioneer blogger Justin Hall bows out at 31 [SF Chronicle, 2/20/05] - Story about the blogger behind links.net who's decided to step away from the keyboard, at least for a while.
February 18, 2005
Celebrate Mike
Spreading the word, as Daniella requested:
...We are holding a Celebrate Mike party on Friday, February 25th at 7 PM at the Overlook Lounge, located 225 East 44th St, between 2nd and 3rd Aves in NYC. You are all welcome, whether you knew Mike "in real life" or only through his blog. A bunch of us will be swapping anecdotes and raising a glass to our friend. This will be night of celebration---because that's what Mike would have wanted us to do. Please join us. I would also appreciate it if you could help spread the word....

Finally, if you would like to make a donation in Mike's name, his parents suggested the March of Dimes. You can click to send a donation here.
February 17, 2005
Aural bits
Today I remembered that Mike had done a trial audio blogging post. I'd done one too, having learned about the service from him. So I checked to see if the post was still accessible, and it is. You can still hear the sound of Mike's voice. It's still so him - funny and self-deprecating and incredibly sweet.
I also saved a copy in case the original mp3 becomes unavailable. It's available here. (right-click, save as)
Blogger's Horoscope
I read my horoscope, even though for the most part it's not usually applicable. Sometimes it's on the money - but maybe if you throw out enough predictions, one of them's bound to stick. So this was my message for yesterday, according to the horoscope I check on my cell phone:
If someone seems to be hesitating when it comes to tell you something, it may be because they've heard you discuss some extremely personal matters quite openly. It's just your nature to say what's on your mind. Reassure them that while you consider your own life to be an open book, you'll go to your grave with theirs.
This wasn't specifically relevant to yesterday, but it's certainly how I approach blogging in general.
February 14, 2005
Backup Plan
I know, it's been all-death, all-the-time around here.
When I was in the middle of my last host-change, shifting files over for the Armoire (and bitching up a storm), Mike told me that backing up my site was no big ordeal - and then did it for me to show me how easy it was. But then he said that I shouldn't get so worked up anyway, it's "just" my blog.
I thought that remark was odd coming from him, a fellow blogger. Part of the panic about losing my site had to do with the blog being a part of my identity, that this was something I was personally invested in. Losing the site, I explained, would be like losing a part of myself.
He still wasn't convinced. I think he even told me, teasingly, that if that's what I really believed, it was kind of sad.
Do you still think that's true, Wheelz? Am I really so wrong?
Considering the sadness we're going through right now, with people posting comments to Mike's last post, checking the site in the hopes that we'll somehow see something new from him, I think it's safe to say that blogs really do give us the sense - and the presence - of someone's identity. And even if one were to say that Mike's site doesn't fully capture his life and experience, it still contains some of his essence, which explains why we want so much to make sure his site doesn't simply vanish.
So it occurred to me - right now no one else has admin rights to my site. What would happen if something suddenly happened to me, or to one of my other friends, or someone that I only know virtually? That certainly has been the experience for not a few of Mike's readers.
In an episode of Coupling, a British sitcom, some of the guy characters explain that they are "porn buddies" - meaning that if one of them were to die, the other would make sure to rescue his buddy's porn stash, thus preventing embarrassing post-mortem revelations to his buddy's family, as well as having the added bonus of inheriting his buddy's porn collection.
Do guys really do this? I don't know. But the idea is there, regardless of the specific content. It's an archival question, on a personal level. Considering how fully I've embraced blogging, I'm certain that I plan to continue the Armoire for the long term. I don't pretend to think that my site is a record worthy for future generations, but it seems to me that it would be a good idea to have designated blog buddies - people you trust who would be willing to preserve your site in some fashion, for the sake of the rest of us who will miss you, desperately, once you're gone.
Addendum: Hmmm. I never thought I would write something connecting death, blogging, librariana and porn but I guess there's a first time for everything. Or maybe, probably, this isn't even the first time someone has had this thought.
January 27, 2005
PostSecret
PostSecret is a project that collects postcards from people who reveal something they have never admitted to anyone before. A blog has been set up with images of the cards and comments about responses to cards that have been exhibited as part of the project.
December 28, 2004
Blogging Coverage
Blogs Provide Raw Details From Scene of the Disaster [NYT 12/28] "The so-called blogosphere, with its personal journals published on the Web, has become best known as a forum for bruising political discussion and media criticism. But the technology proved a ready medium for instant news of the tsunami disaster and for collaboration over ways to help."
Revealing the Soul of a Soulless Lawyer [NYT 12/26] Coverage of Anonymous Lawyer, a fictional blawg that seems to resonate with many real lawyers.
Your Blog or Mine? [NYT Mag, 12/19] Jeffrey Rosen, a law professor at George Washington University, explores the issue of privacy and blogging:
As Web logs proliferate -- Technorati, which tracks 5 million blogs, estimates that 15,000 are added each day -- the boundaries between public and private are being transformed. Unconstrained by journalistic conventions, bloggers are blurring the lines between public events and ordinary social interactions and changing the way we date, work, teach and live. And as blogs continue to proliferate, citizens will have to develop new understandings about what parts of our lives are on and off the record.
Features appearances by
Smitten
(I think we met once), her fiance Alex (a former blogger, it seems), and in an uncredited role,
the great Paul Frankenstein
. A minor point of disagreement with Deb's remark about Washingtonienne, though. Jessica Cutler wasn't good at keeping
herself
anonymous. By failing to do that, to preserve her own privacy, she risked exposure of herself and the people she wrote about. Ultimately she was exposed, and maybe there are people in the Beltway who know who the others are. So far though, she appears to be the only one suffering for her stupidity and carelessness, only to be "rewarded" with a book deal and an appearance in Playboy. But that's another issue.
November 16, 2004
The Digital Future
The Library of Congress is presenting a lecture series, Managing Knowledge and Creativity in a Digital Context. The first lecture was yesterday, 11/15, and featured David Weinberger, who discussed blogging. The lectures will air on C-SPAN. A video archive of the first lecture, and presumably the subsequent lectures, is available from C-SPAN here.
November 14, 2004
Web Star
Congrats and best wishes to This Fish for publishing her article, Traveling the Too-Much-Information Highway, in today's New York Times. Talk about coming out from anonymity in style and with great splash! [Use Bugmenot if you need a login]
The twinge of envy I feel is fortunately overcome by the comfort in knowing that probably even in death I wouldn't make it into the NYT. Unless I'm willing to accomplish something noteworthy, commit a heinous crime or be embroiled in scandal, I prefer being thrilled for someone whose writing I admire, for someone who deserves to make her mark.
November 10, 2004
Changing of the Host
My current host is closing down. I have two months to get this done, but because I haven't backed up my site (I know, I know, I'm terrible), I was in a bit of a tizzy this morning, especially seeing as how fellow friends, like Little Toy Robot, are currently, inexplicably, unavailable. I will probably shift sooner rather than later. This time I will do my best not to screw up my permalinks.
August 26, 2004
'Garden State' Blog
So Zach Braff has a blog relating to his film Garden State. On the official website you can submit your own "Original Moment." In his August 22 post he discusses, among other things, the ending of the film. (Weird - no permalink is available at the bottom of the post; I had to pull the specific link from the "Recent Posts" section.)
Basically, he says that he ended the film as he intended; there was never any alternate ending. Maybe he should have asked me for my opinion. ;) (Sidenote here, but it totally rocks that rawbrick has permalinks for her comments - that is way cool.)
Some of the posts have nearly 1300 comments - do people honestly expect Braff, or the rest of us, to read them all? I wonder how long the blog will stay up, because at some point there won't really be anything more to post as to the movie, right? The guy will be moving on to his other projects and stuff and shit, unless he intends to keep blogging in some fashion, which is doubtful.
Blood in the Water
When you steal other people's blog entries and insert them into your own blog, adding them to all the other posts you've already stolen, don't be surprised when you're caught. Don't be surprised when we find out the other appalling activities you've been up to.
Ignore the demands to fix this at your peril.
Addendum: Part of me is wondering if some bozo is jerking our collective chain. Maybe this is some kind of sick joke, or bogus performance art. We are getting our information about this person from the Internet, after all. But people's posts are being plagiarized, and they are justifiably pissed off. I guess we shall see.
July 19, 2004
Year Three
For some reason I had it in my head that I began the blog at the end of this month. Turns out the Armoire is ten days into its third year. Oops.
I was hoping to unveil a new layout to celebrate, but I'm nowhere near finished. Soon, though.
This year's goals: to focus outwardly; to resist negative impulses and try to be mindful of what I'm writing. To get the site fully cleaned up.
We'll see what happens.
Miss Manners on Blogging
The Key to Discreet Gossiping [Washington Post, 7/18/04]
Other items:
Wired has an article about blogger burnout.
Is civility an endangered species in the blogosphere?
Into the Blogosphere An online collection offering a scholarly treatment on the subject of weblogs.
June 04, 2004
Linky-loo
Pemberley, a condo community in Utah. - Choice promotional lines include: "PEMBERLEY is super-size attached garages." Floorplans include the bennett (sic), the meryton, the collins and the wickham. Surely the collins floorplan will have a window facing the road so nosy residents can espy the comings and goings of their condescending affluent neighbors. (via Sick & Wicked)
Sunset in Manhattan - Gorgeous photo, accompanied by a brief astronomy lesson. See if you can find the Empire State Building.
Noah Wyle IS...The Librarian - The librarian-as-action-hero, in a TNT television movie to debut later this year. Treasures such as the Golden Fleece and the Ark of the Covenant lie within the inner catacombs of the New York Public Library. (What do you mean, which branch. The one with the lions!) (via LTR)
American Journalism Review article about political blogging.
In the Virtual Stacks, Pirated Books Find Eager Thumbs [Sandeep Junnakar, NYT, Circuits, 6/3/04]
June 01, 2004
Funny Ideas
At thirteen I had romantic notions about finding kindred spirits and soul mates. I thought that if I simply could express my True Self, I could forge deep, profound bonds with people. I must have come off as really pompous, or in the case of a boy I was crushing on, totally psycho. How else to explain giving him a birthday card telling him Exactly How I Feel - in the cafeteria, in front of his friends, without any thought to the major embarrassment afterwards? My craving for connection, for comprehension, made me profoundly, stupidly reckless. I was intense, volatile, awkward and lonely, with a vocabulary gleaned from bouts of reading that made my peers wonder how I knew so many words. (Really, they would ask.) It wasn't surprising that the person I could confide in, who never ridiculed me for these thoughts and feelings, who was emotionally grounded enough to handle students like me, turned out to be my English teacher. I couldn't wait to get older ('cause it gets so much simpler, right?).
Sometimes I wonder if I'm regressing. Writing as I do here on the blog, am I blunting my sensibilities for what is and isn't acceptable to reveal, and has that spilled over into how I interact with people in general? I often turn to saying important things in writing, because writing gives me the chance to try to make sense of what I'm thinking. Does that mean I should impose by sharing those thoughts? It's possible to be too honest, too revealing.
Electronic communication allows for immediacy and intimacy, but that can be problematic. It's too easy to hit "Send" or "Publish" before really thinking things through. More often than not, it's better to proceed with deliberation, to not force things. And yet sometimes I still have this notion that if I just get things out there, we can connect. And yet the more important the relationship, the harder it seems to be so open, because you don't want to hurt or be hurt by what you could say to each other. You can't really take it back; you can only alleviate the sting.
This question has been on my mind after having seen Eternal Sunshine. Knowing there could be pain and anguish, you have to take the chance that there could be pleasure, satisfaction, happiness. Otherwise you have stagnation, obsession over what could be - or worse, what could have been.
If only it were so easy to know when it's right to take that chance and when to give something time or let it go. If something or someone is important enough to you, you have to try. Even if it means walking away from a table of boys who think you're psycho.
May 05, 2004
Bots Are Us
Zeebah now has her own domain, and she's now nicely settled into her new space. Do visit her at zeebahtronic.org. So now I know two people who have robots in their banners.
April 20, 2004
"Epimemiology"
My minor search into the origins of the Page 23, Sentence 5 meme doesn't hold a candle to the efforts of LaughingMeme. Check out page 23, sentence 5: an autopsy. Ultimately there seems to have been a crossover somewhere from the LJ (LiveJournal) community over to the general blogosphere. Good work.
April 01, 2004
IFLAG
Mighty Girl was among the earliest blogs that I found when I got started. Now she's out to make a killing with her t-shirts. I want one, but I don't know if I have the nerve to wear it in public.
March 22, 2004
Will Michelle Say Yes?
Stephen has proposed to his girlfriend - possibly the first via blog. I'm surprised it hasn't been done before. So far we don't know whether she has accepted or not. Let us hope that the young gentleman is reasonably sure of her response.
On another front, I read with great interest a doozy of a correction in NYT's wedding pages:
A report on Feb. 15 about the wedding of Riva Golan Ritvo and Alan Bruce Slifka included an erroneous account of the bride's education, which she supplied.

Ms. Ritvo, a child therapist, did not graduate from the University of Pennsylvania or receive a master's degree in occupational therapy or a Ph.D. in neuroscience from the University of Southern California. Though she attended Penn for a time, her bachelor's degree, in occupational therapy, is from U.S.C.

The Times should have corroborated the credentials before publishing the report.
I imagine that this sort of revelation is probably worse than not getting one's announcement in the NYT. [via Rosmania via Gawker]
March 19, 2004
Underachiever
My weblog owns 18.75 % of me.
Does your weblog own you?
Clearly Lady Crumpet ought to become more obsessive devoted. It's kind of funny how these quizzes have really taken off. There are quizzes for everything and you can even write your own. Mostly they really don't mean a lot but we all want to take them so we can compare our results with each other.
January 22, 2004
Tuppence, Tuppence
I realize that my question was buried at the bottom of the post, but I am rather curious as to what you fellow bloggers think. So to reiterate:
Allow anonymous comments, or ask that comments be accompanied by contact information? Explain.
And to be clear, I've configured the comments so that even the people with something to hide can say what's on their minds.
January 20, 2004
To Plugin or Not to Plugin?
Cordelia posted about using the NOT Filter for Categories. But I'm not sure if I have a use for it yet.
It did get me to thinking, though. Is there a plugin that would allow you to not display posts for a certain category on the main page of the blog? Scott Andrew described one that seems to work, MT Exclude Categories. Posts for that category would not appear with all the other entries, but could still be accessible through your category listings (unless you used a plugin to filter out the category from the list as well).
Although I haven't written much of anything lately, the idea occurred to me because I wondered how I could separate more personal entries from the librariana-related posts. Technically, those entries would still be accessible for those who want to read them - clicking on the category name would pull up all posts from the category. Unfortunately, using this particular plugin means that posts filed under several categories still would be filtered from the main page if one of the categories was specified in the plugin.
Apart from technical issues and usability issues - will people still want to read certain posts if they have to click beyond the main page? - what about how that fits in with the nature of blogging? If I'm not mistaken, I believe there are blogging tools or plugins that allow you to limit certain posts, if not the entire blog, to registered users. Or at least that's something in the works. After finding out recently how I came up as a minor subject of gossip I realized that there are people I really, really don't want to know about the blog. But having a protected, registered-user site rather limits who gets to read the blog - is that really such a good idea? I suppose it depends on who your audience is supposed to be - if it's just your friends or family or colleagues, sure. But if you're aiming for a wider audience, how many people won't bother to read if they have to sign up for yet another id and password?
What if I were to write a post but not publish it? Or write it but use plugins as just described so that a post is written, but because it's filtered from both the page and the category list, the post only exists for me as the writer? Or more simply, why write the post at all? Another possibility is to maintain a separate blog - for instance, having a true librarian blog, one that's tightly focused on issues or resources of interest as a librarian. Although my description does say "librariana, literature and the law" the Armoire has been more of a common-place book of late.
And one final issue: Although as MT users we have options with comments - none, allow them, or allow them but only to people who leave an email address and/or URL - what is appropriate, at least for bloggers who allow for comments? I started out with open comments, which is most reader-friendly, but that always leaves the possibility of people posting who choose not to leave any information, which I think is annoying and cowardly, especially if you're going to post something critical. I do realize people have privacy concerns - and as a blogger I know that I am choosing to put more of myself out there, even under a pseudonym, than someone who's merely leaving a comment. At the same time, whether the perception is merited or not, I'm less inclined to take your comment seriously if you won't leave a way for me to get in touch with you privately. Anyway it's not like this has really happened a lot, and I'm more concerned about f*cking spambots which are more than willing to fill out all the blanks with all of their bogus crap.
Thoughts? I open up the comments to all, including you anonymous wusses. ;)
December 17, 2003
Happy Birthday
To mrw at randomness personified. Go wish him lots of happiness!
Apropos of randomness, attended a 10:30 screening of Return of the King. First meal of the day was lunch afterwards at 2:30. Mentally and physically drained, even now, but I really enjoyed it, even as I kept having to wipe my eyes.
You thought Legolas swinging beneath his horse then leaping up to mount was cool? Just wait till you see him and the oliphant.
December 15, 2003
Blogging Tips, Minus the Snark
Although this dates from March (an eon in Internet time), Rebecca Blood, author of The Weblog Handbook, has written a really good essay, Ten Tips for a Better Weblog, that's suitable for newbies and regular bloggers alike.
December 14, 2003
Blog-friendly NYT links
Here's a valuable tool for bloggers: New York Times Link Generator. Paste an article link that you want to use, and it creates a link that's "weblog-safe." The site also offers a bookmarklet for even quicker link-generation.
December 13, 2003
The Naked Blogger
Jamie Oliver, aka the Naked Chef, has been blogging since March. The site's still under renovation, but it's a visually attractive, easy-to-navigate blog. Most importantly, there's a recipe archive, although there are only a few listings, archived by month, at the moment.
Although I like the efficiency of reading blogs through aggregators, I also like reading entries in situ, depending on whether the blog is for a friend of mine or for a blog whose site is too visually appealing to miss. This might be one for the blogroll, although perhaps I should separate the civilians/vets from the celebloggers, if only because I don't want a single unwieldy blogroll.
December 11, 2003
Blawgdom
The Blogbook, which calls itself an "Open Source Law Project," aims to serve as a guide to legal blogging, as well as a forum to "facilitate discussions around the technical, stylistic and ethical components of legal blogging." It's got a clean, simple design, links to recent posts and of course a blogroll of legal blogs, or "blawgs," as they're now being called.
The most interesting feature of the blog's design is the way its content is organized. The horizontal menu bar, beneath the title and caption, has links for Citations, Style, Code of Ethics, and FAQ/Contact. Following one of these links leads you to a sub-blog, whose posts are relevant to the subject link. The look remains the same, so the sense of place, of the site's continuity, remains intact. Only the blog content changes, depending upon the link, because you're actually looking at a separate blog. My only quibble is that while many people know that clicking on the blog title will take one back to the main page, there still ought to be a "Main" link in the menu bar for easy navigation. Overall, it's a neat approach, having separate blogs for related topics that are contained under the umbrella of a primary blog.
December 10, 2003
Do's and Don'ts of Blogging
Gothamist offers up some guidelines in What Not to Do When You Blog. Clearly, this site has been in violation of #2 - writing about oneself - for some time. There are personal blogs that I find engaging, because these people make interesting observations about their lives and write them well. But perhaps I'd do better to focus on the general topics of my site description.
The problem with being in the doldrums is that nothing seems interesting enough to write about, so the easiest thing is to write about oneself. Either that, even if it's a bit lazy, or abandon the blog, which I'd prefer not to do. Oh that's right - Gothamist deems "blog" an acceptable term no longer. I don't agree; the recommended "website" doesn't capture the nature of blogging, expansive and nebulous as that nature can be. "Weblog" should be fine, if referring to one's site as a "blog" is really so desperately precious or distasteful.
The fact that more people are embracing the medium doesn't mean the term should be declared over because it's become diluted or tainted by lesser talents. Hell, go to any open-mike night to see who abuses - and who deserves -the title of "poet."
Apart from the word making sense, it also sounds right. "Blog" seems fitting for a miscellaneous collection of entries which may or may not hold together topically. The term connotes the rawness and immediacy that often characterizes blog posts. Some blogs are more focused, such as many professionally oriented blogs, or those devoted to some particular personal interest. But other blogs, like this one, are intended to be a looser colloquy, representing a variety of interests. I do try to focus on the librariana, but I like having the flexibility to discuss other subjects, to be serious or frivolous, or sometimes both, as the mood strikes.
Before there were poorly conceived, badly written blogs, there were plenty of cheesy personal websites. At least blogs allow for easy, regular updating of content; how many of these original websites have become cobwebpages, abandoned yet ever ready to plague some poor misdirected visitor with annoying Geocities or Yahoo popups?
So enough with the excessive hand-wringing and Pepys-type entries; I shall retrench and find more interesting things to discuss than bellybutton lint.
December 08, 2003
Happy Birthday
To Paul, one of my earliest amigos in the blogosphere.
December 02, 2003
Tinkering
The install of MT-Blacklist worked out pretty easily. Not that I ever got lots of comment spam, but finding any was offensive enough.
Hopefully those of you with MT-powered blogs have addressed the security risk posed by the mt-send-entry.cgi file by now. Fix your code, delete the file if you don't use that function, it's up to you, but do something, lest your site become a spammer's front and ruin your good name.
[Alert via mrw]
December 01, 2003
Be Not Alarmed, Madam or Sir
One thoughtful reader has already told me that I've broken my comments. I'm in the middle of fixing it, so hold tight. I wouldn't have to do this if it weren't for those damnable spammers, but such is the hand I've been dealt.
Addendum: Comments are restored. I've attempted to rename my comments file and edit the mt.cfg file accordingly, but it didn't work. Guess I'll have to implement the MT-Blacklist after all.
November 18, 2003
PPPPPPBBBBBBTTTTTTHHH
Or, whom do you visualize as your reader?
The short answer is that my readers are those of you out there in cyberspace. For the most part I don't know who you are, except as you comment from time to time, for which I thank you.
When I started this blog, I thought of this as a repository for whatever happened to be on the brain, with the caveat that the public nature of the medium inherently would check instances of Way Too Much Information. I think I've generally succeeded in that regard, but that could be because no one's told me otherwise. It's hard to tread in obscure waters, but if I wanted popularity I guess I could talk about my really hot ass.
My family and most of my in-person acquaintances don't know about the blog. It wouldn't be the end of the world if they did, but I don't think they'd be comfortable having so much access to my inner life. And truthfully, I'd feel discomfited too, because they'd know so much more about me than I do about them. Better I had thought things through and told even fewer people about it than I did.
That said, I'm more bothered than I ought to be about a friend's offhand remark that she doesn't read my blog. She doesn't read personal sites in general, which I knew, and yet I told her about my site anyway. Yes, I should've known better - but why condescend to remind me of your indifference? 'Cause I really appreciate knowing that you really don't care.
Yes, I'm overreacting. It's how I feel at this particular moment. I have to remember that there's no point to the blog if I'm not getting anything out of it, even if I am the only one who ever does.
November 12, 2003
Church Sign Generator
The Church Sign Generator is another web toy I'm finally getting around to. My sample signs, containg actual messages crammed onto signs in other contexts.
Margaret is *Pissed*
While it's not exactly a revelation that both Margaret Cho's comedy and her blog are in-your-face, aggressive, and hysterically profane, she's written three posts in succession (here, here, and here) about someone close to her who has seriously aroused her bile. The guy is such a shithead, he's even kicked her dogs!
I read somewhere that she'd gotten married. I hope she's ranting about somebody she used to be involved with, rather than her husband. For as vitriolic as Margaret can get during her act, I'd like for her to be happy in her personal life at least.
November 05, 2003
"Beyond the Beyond"
Bruce Sterling now has a blog, situated at Wired.
October 06, 2003
She's the One That We Want
Margaret Cho, our favorite profane All-American Korean girl, has a blog.
July 09, 2003
Bon Anniversaire, L'Armoire!
A year ago today, Lady Crumpet's Armoire emerged from the foamy brine of my brain to reside here in cyberspace.
It's an eventful day offline as well. Last Monday morning I gave notice that I was leaving. By that afternoon I helped interview the fellow who's since been hired as my replacement. Today the boss is taking me out to lunch, since she'll be out next week. Not long after, I'll meet with HR for my exit interview, since that person will out next week as well. There's too much work left to slack off - in trying to leave my job on a good note, I've actually put in extra hours to get things done so the new guy won't be quite so overwhelmed, and to be honest, so that I don't create ill will when I leave. No one's asked for it, and I suppose I'm a dupe for doing so, but professional purpose is ingrained in me, however I feel about the job and this workplace.
Of course it hasn't been all that bad. I wouldn't be here if it weren't for meeting my good friend and officemate Zeebah. (Miss Zeebah, btw, has a new domain and has finally moved over to using MT. Congrats!)
No great words of wisdom to impart. I feel really engaged with the world, both the external and the internal. I've rediscovered an inner life that ached for expression. I've learned a lot from working the nuts and bolts of running a blog to current events to the thoughts and lives of others. I've made marvelous, dear friends. I think my writing has improved. I'll just try to stay interested, and if you want to stick around, I humbly thank you.
July 07, 2003
Online Immunity
John Dean (yes, that John Dean) offers up commentary and analysis on the Ninth Circuit's Batzel decision.
July 03, 2003
"Bloggers Gain Libel Protection"
According to Xeni Jardin's report in Wired (7/30): "The Ninth Circuit Court of Appeals ruled last Tuesday [6/24] that Web loggers, website operators and e-mail list editors can't be held responsible for libel for information they republish, extending crucial First Amendment protections to do-it-yourself online publishers."
On the one hand, great news for bloggers and other republishers. On the other, I feel badly for Ms. Batzel. Her reputation was damaged because of what someone falsely said about her in e-mail, even though the jerk supposedly didn't expect the e-mail to be published. (Yeah, right buddy.) And she's had to up and leave the North Carolina town she lived in, because people think she's the granddaughter of a Nazi, even though it's not true.
While bloggers and other republishers seem to have more protection now, what proper remedy can someone pursue when they've been falsely, purposely, maliciously maligned? Does traditional libel or slander law still offer a person a way to protect themselves in the digital age?
UPDATE: Interesting - a Wyoming man has been fired by Home Depot, apparently in connection with columns and stories he's posted on his website which are critical of the CEO. ("Web Poster Fired by Home Depot" - Tony Wilbert, Atlanta Journal-Constitution, 7/3/03) Wyoming's in the Tenth Circuit, however, so the Ninth Circuit ruling would merely be persuasive authority. [Link via ObscureStore]
June 22, 2003
Our Patron Saint?
Ralph Waldo Emerson, A God for Bloggers - an argument that proposes that bloggers are Essential Emersonians, contributors to the Universal Oversoul. Perhaps others would say we're making lots of noise, signifying nothing.
I don't aim to be a BlogStar, much as I'm getting the site entered onto various indices and webrings. The Armoire is just my little postage stamp of a homestead in cyberspace, my little bit of ivory that I work over and over. Sometimes I'm superficial, sometimes I'm weeping as I type. Sometimes I'm just thinking aloud, and letting you in on my rambling, still-evolving ideas about the world. If this space says something to you, I'm glad of it. Thank you for making me part of your world.
June 20, 2003
Blatant Self-Promotion
You may have noticed some tweaking around here. I've created some cute buttons, courtesy of this really cool Button Maker.
I've also submitted the Armoire to Popdex, BlogWise and Blogsnob, other blog indices and promotional tools.
Hopefully when school is done maybe I can play with the main look of the template. Although at that point I'm supposed to get the apartment packed up. When will it ever end?
June 19, 2003
How do I blog thee? Let me count the ways.
Sure, blogging frequently, writing well, and generous linking are essential to getting an audience and boosting one's stats ("A Blogger's Big-Fish Fantasy" - Catherine Greenman, NYT, Circuits, 6/19/03). But Paul Frankenstein aptly notes that getting mentioned in the New York Times just might help too. Again, not happening to me. Bah! I don't care. *sniff*
Intriguing Dilemma
Kottke posted his thoughts on The Matrix Reloaded. At his last count, people have left 700 comments, mostly as a dialogue amongst themselves. He wonders, "Who owns the conversation on my website?"The activity does amount to significant use of his resources. The bandwidth usage for this entry alone is staggering; it's become its own entity. If people want to keep up the conversation, maybe setting up a message board or even a listserv might be a better solution. It's also important to keep the information accessible somewhere online, so if someone really feels like it, they can read the 700+ comments at some point without draining Jason's bandwidth. Anyway, I doubt this will ever be my problem.
June 18, 2003
Made the Cut
"The Open Directory Project is the largest, most comprehensive human-edited directory of the Web. It is constructed and maintained by a vast, global community of volunteer editors."
So I was checking my stats for the umpteenth time, when I noticed a certain referral link. Yes, that's right, the Armoire has been cataloged! You too, Zeebah, if you didn't know already.
June 15, 2003
He Said, She Said
...Which brings to mind the legal fisticuffs between the beauty queen and the cad, involving the issues of free speech and privacy ("Internet Battle Raises Questions About Privacy and the First Amendment" - Adam Liptak, NYT, National, 6/2/03). According to the article, which has comments from several lawyers and legal scholars, "such orders prohibiting future publication or prior restraints are essentially unknown in American law." The judge's ruling seems problematic - the cad, Tucker Max, who at one point dated Katy Johnson (Miss Vermont, 1999, 2001), is forbidden to write about Johnson on his site. He can't use any part of her name, her full name, or the word "Vermont." He is prohibited from "disclosing any stories, facts or information, notwithstanding its truth, about any intimate or sexual acts engaged in by" Johnson, online or offline.
Also, he cannot link to her site - quite possibly one of the stupidest portions of the order. Again from the article:
"The prohibition on linking to Johnson's site is "kooky," said Susan Crawford, who teaches Internet law at Cardozo School of Law at Yeshiva University.

"To block the ability to link," Crawford said, "is in effect to say her site is her own private property."
Clinton Fein has a lengthy, fairly evenhanded article about the case, including a copy of the order and other links at the bottom of the page. Neither party comes off winningly. What a mess.
June 12, 2003
The Nature of Blogs
Dave Winer asks the question, What Makes a Weblog a Weblog? Winer is also responsible for working out an understanding with the New York Times - he's set up RSS feeds so that your links to articles remain intact and free of charge. This is just wonderful - so now, how do I retro-engineer my older posts that link to NYT articles? As a cautionary measure, I'm going to continue with my brief citations so that if this arrangement doesn't work out, articles can still be tracked down the old-fashioned way. Which would be, you know, going to the library.
Over at PC Magazine, John C. Dvorak makes some predictions about blogging.
June 10, 2003
*Yawn*
Stayed up late to work on my Thought Piece (short papers that I have to write for my current class). Just managed to mark up one of the articles I planned to cite. So I finished up today, during the train ride to work and lunch.
So I'm tired. But perhaps it's the right frame of mind for reading The dullest blog in the world.
June 04, 2003
Index-o-rama
One of the neat features in Movable Type is the ability to assign categories to your blog entries. (This is a cool feature, whether or not one is a librarian.) After some tinkering, I've created a template for my Category Archive, then added some extra coding so that each post will tell you which category(ies) it's been assigned to. There's also a listing of same over in the sidebar.
Now I need to finalize a comprehensive, logical list of categories, hopefully one that shouldn't be altered much, because I'll be darned if I have to keep reassigning posts over and over. But then one can always use the Search field, another great feature, to seek a particular post.
Thanks be to Paul for helping me with the coding within the post entries.
May 19, 2003
Hiding out in Siberia
The latest BABB was lovely. Met up with Zeebah, Hands Free, Mike, Gak, our evening's host, Paul Frankenstein, and many others. Paul has posted some photos. Really, I'm not advertising for Red Stripe beer, I just happened to look up when this was shot.
Siberia, has a nondescript, sidedoor sort of entrance, unmarked except for a red light above it. The place was dark, we were all aglow in the wash of red lighting, there was scattered seating. A dive, yet a little too spacious, so people spread out a bit. Not the same crush, though, as we experienced at Zanzibar.
Also a good place to lay low, so it would seem. Today's PageSix reports that Jayson Blair, the disgrace of the Old Gray Lady, was there when he was supposed to have been in West Virginia interviewing Private Jessica Lynch's family.
JAYSON Blair ruined his career by fabricating tales and plagiarizing stories in the New York Times, but at least he was having fun doing it. We hear the disgraced reporter was spotted at Hell's Kitchen hotspot Siberia talking on his cell phone and taking notes around the same time he was supposed to be in Palestine, W. Va., covering the story of freed POW Jessica Lynch. But when a bartender asked about something reading "West Virginia" in Blair's pile of papers, the Timesman refused to talk about it.
May 16, 2003
Going to Siberia for BABB.
Going to Siberia for BABB. Cheap beer and face time with bloggers. I think I will know at least three people there, so maybe I won't stare at the floor so much this time.
April 24, 2003
Next BABB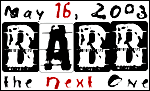 Looks like May is filling up for me. May 16 - the latest and greatest Blogger Bash.
April 20, 2003
Blogs 101
Dr. L. Anne Clyde at the University of Iceland provides a useful primer for weblogs, which includes web articles as well as links to blogs and blogging tools. Full disclosure - the Armoire is included in her listing of sample LIS (library science) weblogs. Thank you, Dr. Clyde!
March 22, 2003
Pressing the Flesh
After protracted negotiations and then the weather conspiring against us, fellow blogger Mike and I finally met up last night, after first becoming acquainted at BABB well over a month ago. Our common interests - blogging, obviously, as well as film, music and some maddening Anglophilia. We are also terribly indecisive and have trouble sorting out restaurant bills. We determined that we must have been standing within several feet of each other at a Neil Finn show at the Variety Playhouse in Atlanta in 1998. How funny is that? I think, in spite of the connections one makes online, there's nothing like meeting up in person and hanging out, chatting away and sitting together over dinner and drinks. We're still carbon-based lifeforms and the exchange of information that takes place when you hug someone hello just can't be conveyed through mere text on the screen.
We caught a screening of Laurel Canyon at a certain megaplex near Times Square - but only because the rain was still falling a bit and the showtime was soon. Note: Lots of non-pc language ahead. Frances McDormand is amazing as Jane, the tough and sexy hippy chick music producer who has a rocky relationship with her straight-laced psychiatrist son Sam, played by Christian Bale. Alessandro Nivola was just sex on legs as the singer Ian, who fronts a band including real members from the group Folk Implosion - oh, and his vocals were quite lovely too - both Mike and I observed that the big song in the film sounded like a Coldplay track. His performance lends authenticity to a movie in which music isn't merely some absent-minded consideration. I'm definitely picking up the soundtrack, sucker that I am. Nivola also has a hilarious moment in the pool, passed out and naked on a floating cushion. I'm not in the habit of noticing guys and their asses, but hey, there he was in the altogether, floating by all taut and golden on a gigantic movie screen. Kinda hard to miss, even for me. (Er...is it getting hot in here?)
Kate Beckinsale did strike me as a bit weak - I'm not convinced how her character went from being disciplined doctoral candidate to lost girl seduced by the California rocker lifestyle. I'd heard she'd gotten implants in order to boost her career, so to speak. So I was also distracted by trying to figure out if that was the case, or if she just had the benefit of well-fitted foundations. Yes, ladies and gents, I'm an equal-opportunity gawker, fascinated by the sight of ridiculously gorgeous people and the things they do to make themselves more so. The movie doesn't end the way you think it might, were it totally a Hollywood kind of flick. An excellent viewing.
Afterwards, we headed to Zen Palate for some vegetarian dining and post-viewing critiquing and further nattering away. I had a dish called Dreamland - some sort of pasta with shredded, chewy bits of sweet and sour sauteed mushroom. Mmmmm. Such a healthy place didn't offer alcoholic beverages, so we wandered over to Jack's for some potent vodka tonics and yes, even more conversation, this time accompanied by raucous drunks singing enthusiastically, though unintelligibly. We also pulled out our gadgets - PDAs, digital cams, and the requisite admiration of the portable digital jukebox - it looks like a CD player, but holds music like an IPod. Yes, we totally geeked out and enjoyed ourselves immensely. But all good things.... Late night commuting trains beckoned, so two new friends parted ways on the sidewalk and headed home.
March 11, 2003
Meta Convo
At some point I might gather my thoughts more coherently on the subject of blogging versus journalism. I like to blog, I also like to read about the phenomenon of blogging. I'm interested in the various perspectives and responses about it. From what I've read in the official press, there seems to be a bias by journalists towards bloggers, which I find kind of amusing but also annoying. Note to journos: Hey, I don't want your job. Relax. Scott and I had the following exchange - apologies for the length and lack of polish on my part.
On Tue, 11 Mar 2003 11:45:08 Lady Crumpet wrote:

["All the Useless People" The Intro, Jeff Koyen, NY Press, v. 16, no. 11, 3/12/03]
http://nypress.com/16/11/news&columns/intro.cfm

a new snipe at bloggers: "writers who infest the web"

From: Scott
Sent: Tuesday, March 11, 2003 12:22 PM
To: Lady Crumpet
Subject: RE: interesting

I don't understand this piece, other than that somebody made a comment about him online and he's mad about it. It seems like another drop of the undiluted bile journalists (self-styled and otherwise) are spewing about the indignity of having to put up with other people writing.

On Tue, 11 Mar 2003 12:40:54
Lady Crumpet wrote:

It's not like people weren't writing before, in the way of diaries or newsletters before, or putting out websites and blogs now. It's just that the tools and services are there to really put it out there in the world, instead of keeping it to oneself or one's circle of friends, and it's a big phenomenon. CNN seems to have just discovered blogs; it just did a story about blogs; there was even a little poll, and the biggest result was for people who said they would never keep a blog.

People can tell the difference between journalism and blogging. But there are good bloggers out there, and there are also journalists who blog. Is it a competitive thing, bloggers winnowing readers away from the "real" writers, the journalists or "journos"? Is it annoyance with all the hoi polloi now polluting the web with their writing, because only real writers should be able to publish and share their thoughts with the world? Blogging is getting huge, but we'll see how many people stick with it.

From: Scott
Sent: Tuesday, March 11, 2003 1:07 PM
To: Lady Crumpet
Subject: RE: interesting

Yeah, there have always been nonprofessional writers and of those there have always been a lot of bad writers for every good one. Making it easier to "publish" if only online, makes the proportion of good work even smaller. Distinguishing the good from the bad is always difficult.

I think journalists do object to having to compete with other people who haven't endured what they have to get where they are. Someone who set out to be a journalist in the 70s or 80s (or even early 90s)probably didn't imagine that the web would radically multiply the type and number of potential outlets for reportage, commentary, and criticism. That person probably studied journalism in college (where he learned not much other than the mechanics and culture of the media industry,) worked on low/no paying campus or local publications, started a zine DIY, sent out hundreds of spec pieces to legit outlets and got hundreds of rejections (or no responses at all) until something finally worked and they made it in the door. Now, after they've reached what they thought would be a privileged position where their product would benefit from some kind of authority or protected institutional status, a lot of people get their news/commentary online and the work of amateurs who haven't pa id dues enjoy access and circulation (and in some cases attention) similar to their own stuff.

It isn't a question of whether online readers can distinguish between journalism and blogging (or even professional commentary and blogging); I'm sure they can. The question is whether the former is presumed better than the latter. I think if journalists really produced product that was substantially better than what anybody with desktop publishing software or web tools, they wouldn't be having these reactions.
March 09, 2003
Moblogging
This is a new term; it refers to "mobile blogging," or blogging via phone or handheld or text messaging device or whatever. It can be audio or text. Currently audblog and Blogger, via Audio Blogger, offer audio blogging, which means you can create postings (sound and otherwise) through your telephone. Both services charge $3/month, which is cheap enough, I guess. But I'm hardly articulate in speech; why should I inflict that voluntarily on other people? At least with writing my posts, I've got something of a fighting chance in expressing myself.
Anyway, so mrw did a trial posting over at randomness personified. (Doesn't he have a nice voice?) I figured I would give it a try. My post, via cellphone, is below - another poem I like, "Pocket Poem" by Ted Kooser. If I were inclined to subscribe, that would be how I'd use it - reading a poem to you, instead of pasting it here and violating copyright.
audblog audio post
Hosting Advice?
Ok, so I'm tired of having ads on my page. I'd like to find a host for my blog that's priced affordably, that can use my domain name as the original URL (currently, ladycrumpet.com masks the Blogspot URL), and doesn't suck. (Is it ok that my domain name was purchased from a separate vendor from whoever I end up using as a host?) Interestingly, my provider does not offer a hosting plan for blogs, just for more traditional (bigger) sites, although I do get basic webspace. Just no access to Perl or cgi bins, stuff that I'm somehow going to figure out. (Ha!) I guess the big ISPs haven't heard about the phenomenon of the blog just yet.
So, recommendations? Thoughts? I've checked out the resource listings at Eatonweb, Globe of Blogs, and Dmoz but I honestly don't know what to choose. I know I need at least 25 mb of space, but what else should I consider? And then there's deciding whether to mess with Movable Type or GreyMatter - or some other blog publishing tool. My problem is that I research a little too obsessively, and then go mad because I have too much information to work with. Classic infoglut.
March 05, 2003
Ten, the Abbas Kiarostami film
Ten, the Abbas Kiarostami film that we were shut out of at the NY Film Festival, opens at Film Forum today.
Of late, I'm constantly fine-tuning the blog. I've just joined Weblogs.Com, so if I'm on your blogrolling list, you'll know when I updated if you've designated your settings accordingly. And then you can race here for the latest in onanistic bleating.
Ernie the Attorney talks about the three stages of blogging awareness, but I think there's another stage - becoming an obsessive blogwhore. (Alas, I am only 25%.) Gotta think of something to post today. Has anybody commented? Has anyone sent me an email from the mailto link? Have I been added to anybody's blogroll? Omg, what are my stats? Yay, another user looking for Kelly Ripa and her stupid high heels! Perhaps an intervention is needed ("Lady Crumpet, step away from the keyboard!"). Obviously, I gotta get out more, if only to make the following observation:
Which is worse? Hearing Elton John sing "Can You Feel the Love Tonight" or a muzak version?
February 26, 2003
BIRTHDAY GIRL
Happy Birthday Zeebah! A year ago I barely knew you. Today, we are blog sisters.
February 08, 2003
We met at Zanzibar, a place clearly intended for the young, beautiful, hip New Yorker, which I am not. A $9 vodka tonic? I went with a pint of Sam Adams, a bargain at $6. Thus fortified, Zeebah and I plunged into the mix. (The ever reliable LIRR proved to be too much of a hassle, so Scott never made it in to town.)
And? It was fun. I sampled a marvelous ginger snap baked by Pitchaya, who also described the motions of zen archery for us. I met Asparagirl, Mike, Gary, and Mr. Swill. There were many others; apparently the turnout was rather swell, but there wasn't much room to commingle. We shimmied intricately, balancing drinks, making room for the waitress or others to scoot past; it reminded me of the party scene in Breakfast at Tiffany's. Yet in that brief bit of square footage, there was much conversation and merriment. I scooted out before ten, needing to drag my grad student ass out of bed early this morning. But I'd love to meet you folks again!
February 07, 2003
My first blog meetup. Scott's
My first blog meetup. Scott's coming with me, and Zeebah will be there, but I feel awfully shy nonetheless, especially since some of the (blogogentsia? bloggerati?) will be in attendance.
January 16, 2003
Pepys Show
Begun on January 1 of this year, The Diary of Samuel Pepys is presented blog-style, one entry a day, presumably for the next nine or so years. (Pepys' diaries covered the years 1659-1669.) What a wonderful idea by Phil Gyford - I think I might actually get 'round to reading the whole thing in this fashion. In addition, the blog format permits annotations - so we readers can post comments to each entry.
December 03, 2002
Competition
Barbie has a blog, as do her friends Madison and Chelsea. They even have webcams. Damn!
Nonetheless, I have Barbie wallpaper on my work desktop.
Boston booked! Another leg of my Neil Finn winter tour confirmed, this time with Jen in attendance, and possibly the beau. Now I just have to get tickets for our Philly venture.
October 07, 2002
Gone
Arts & Letters Daily, a wonderful blog devoted to all things A&L, is no more. The parent company has filed for bankruptcy and the website is going up for auction later this month. The editors are moving on to other projects. The archives are still available, although who knows what form the site will take when it's been sold off.
August 29, 2002
Thanks to Cordelia at Civility
Thanks to Cordelia at Civility for pointing me to Blogstickers, a site that wins my personal "Ooooh!" for the day. Now you too can have a spiffy digital bumper sticker for your blog.
It figures that I go online briefly to check email, pay some bills, read some message boards and blogs, and now it's 105 minutes later because I'm searching for the perfect Blogsticker. Good thing I found it (check under "Credits"), because now I have less than 3 hours of sleep before it's time to get up and going on the next phase of vacation. Guess I'd better keep any sleepless surliness to myself and slurp on the caffeine!
August 19, 2002
Every 40 seconds, a blog is born
Newsweek has an article on blogging (8/26 issue), noting that a new blog is created every 40 seconds.
A very good weekend. Scott and I roamed about the city on Saturday - we caught the monthly record show uptown and found some serious music booty, including a live Stevie Wonder 2-disc set (Scott's) and a live John Denver 2-disc set (that would be, um, mine). My purchase was particularly thrilling, if unfashionable: 28 songs for $8, or a whopping $.28/song. Other great finds - a Sarah McLachlan b-sides album from a few years back for $5, as well as the new Morcheeba album (finally!). We also caught 24 Hour Party People, a really cool, fun film about the rise and fall of Factory Records and the origins of Brit punk, New Wave and rave culture in Manchester, UK.
Sunday - Brunch at Elephant & Castle - bowls of latte and eggs benedict on potato pancakes. Jen presented me with souvenirs from her trip to England - a National Trust tea cosy covered in cats, and a great, goofy "Tea Belly" mug - naturally for my next cuppa. A stop at the fine Myers of Keswick, from which we emerged with wedges of Stilton and cheddar, crackers and Twiglets. By then the heat was too oppressive to even contemplate the subway, so we cabbed on up to our friend Karen's jewel box of an apartment. A partial viewing of a documentary about British aristocracy, then Gosford Park, accompanied by the screenwriter's commentary. Karen was the perfect hostess - draughts of iced tea, crab mixture on crackers, tea sandwiches and a divine raspberry tart. Eventually off home to Dear Husband, who is most understanding, or at least tolerant, of my descents into Anglophilia.
August 02, 2002
Safire's Definition of "Blog"
From William Safire's discussion of "blog" (New York Times Magazine, 7/28):

Blog is a shortening of Web log. It is a Web site belonging to some average but opinionated Joe or Josie who keeps what used to be called a ''commonplace book'' -- a collection of clippings, musings and other things like journal entries that strike one's fancy or titillate one's curiosity. What makes this online daybook different from the commonplace book is that this form of personal noodling or diary-writing is on the Internet, with links that take the reader around the world in pursuit of more about a topic.
Hmm. "Average but opinionated?" I realize that Safire's playing with the phrase "average Joe" and perhaps simply refers to anyone with a yen for filling the blogosphere. Yet we know not all bloggers are up to the expression of interesting and articulate opinions (let alone valid ones). I can't help but wonder if Safire is having a bit of a dig at us, especially since he later mentions his lack of interest in blogging himself. Maybe this Josie is simply reading the text too closely and should stick to her average opinions.
July 09, 2002
Hello, World
As of lunchtime, I am now a blogger - such an ungainly word, isn't it? While "blog" is a logical contraction of "web log," the term is about as poetic as a Milk Dud.
I have been inspired by my friend and co-worker Elizabeth, a cyber-guru/reference librarian, who has a blog of her own. Props to Liz for demonstrating the ease and freeform nature of the medium - yes, even a yahoo like myself can now homestead on the 'Net and add to the pile of online driftwood. While I've made my own websites over the years, the creativity and timely upkeep have been lacking - you really need good content! Plus my beautiful paper journal hasn't been updated in forever and I would hate to not write anything down just because I think I should always be writing passages of brilliant, flowing script with my fountain pen. So the aim here is to just get stuff down, though not so personal as to induce a sharing violation. I'll keep such private thoughts just that, which is where the paper journal will remain handy.
I am also indebted to another friend who sends a weekly missive by e-mail to those of us who happened to randomly discover this fact and request membership to his list. He's a minimalist, condensing his days to spare sentences that are nonetheless rich with observation and reflection. I continue to be impressed by what a great match he is for his wife, one of my dearest friends, who knew in her dreams they were meant to be together. (Yes, really.)
I feel a mite shy about establishing a similar practice, so instead I've taken a more roundabout, albeit curiouser route - now my thoughts can be shared with any poor soul who stumbles across this site. I'll just share the link, and people can decide for themselves if associating with me is really such a great idea.
So here I am. Welcome to the Armoire.